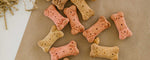 Photo by RODNAE Productions from Pexels
Our favourite furry friends deserve some special treats when they do well. Remind your pup how much you love them with your very own homemade dog treats. Making your own dog treats from scratch can be both exciting and rewarding for you and your dog. Store-bought treats may be easily accessible. However, they aren't always the healthiest and tastiest option for your pet. Homemade dog treats can be both nutritious and delicious! Keep these tasty treats on hand for your walk, hike, or stroll outside with your pup.
Learn how to make dog treats today! Here are four easy and delicious homemade dog treat recipes to try:
Tasty Dog Treat Recipes
Sweet Potato Fries For Pups:
Sweet potatoes are one of the sweet and starchy superstar veggies. They make a great nutritious and tasty tweet for your pup. Sweet potatoes also promote gut health, healthy vision, and brain function. They taste even better in french fry form! Check out the sweet potato fries for pups recipe:
Instructions:

Preheat oven to 425 degrees Fahrenheit
Cut, wash and peel sweet potato into evenly sized french fry shaped pieces
Coat the french fries with coconut oil and sprinkle with cinnamon and turmeric
Mix in a large bowl or bag
Place fries on a baking sheet in one layer
Bake for approximately 15 minutes
Flip over fries for even baking
Bake for another 10-15 minutes and let cool
Serve your pup and watch them enjoy it!

Ingredients:

1 sweet potato
1 tablespoon of melted coconut oil
Turmeric
Cinnamon
Peanut Butter and Pumpkin Dog Treats:
Nothing gets your pup's mouth-watering like a tasty peanut butter treat! Peanut butter is great for your pup because it is not made of peanuts roasted in fatty oils and offers plenty of vitamins and protein. Pumpkin is also highly beneficial for dogs and offers them relief from digestive issues. The seeds can also function as a natural dewormer for tapeworms and parasites. Both pumpkin and peanut butter together make for this tasty treat:
 

Instructions:

Preheat oven to 300 degrees Fahrenheit
Line in the baking sheet with parchment paper
In a food processor, process the oats until they become a fine powder. Add pumpkin and peanut butter and process until it forms a sticky dough.
On the lightly floured surface, roll the dough until it's about ½ inch thick. Use a small cookie cutter to cut out the treats.
Arrange the cookie cutouts on the baking sheet and bake for 25 to 30 minutes.
Let cool then serve to your pup!

Ingredients:

1 cup of instant or old fashioned oats
⅓ cup of canned Fruitables pumpkin
¼ of Hero peanut butter
Whole wheat flour or ground oats
Chicken Dog Treats
There's nothing more tasty than homemade, protein-rich chicken treats for your furry friend. Chicken is a lean meat and offers a number of benefits for dogs, including healthy fatty acids, protein, and energy-boosting qualities. These heartwarming tasty treats serve as a great delight at any hour. Here's the recipe for chicken dog treats:
Instructions:

Preheat the oven to 350 degrees Fahrenheit
Combine all the ingredients and stir them well
Spoon mixture into silicone molds
Bake for 20 to 30 minutes until the top is golden brown
Allow time to cool, remove the molds before serving to your pup
Store the treats in the fridge for up to 5 days

 

Ingredients:

1 cup of cooked, finely diced chicken
½ cup of brown or white rice, cooked and mashed
3 tablespoons of rice flour
1 tablespoon of parsley
1 egg
Turkey Hypoallergenic Dog Treat:
For hypoallergenic pups, there are some great tasty treats available. Allergen-friendly dog treats are easy to make when you swap out certain ingredients. Turkey meat is lean, low in fat, and both delicious and nutritious. On its own, turkey is non-toxic and healthy. Check out the turkey hypoallergenic dog treat:
Instructions:

Preheat oven to 375 degrees Fahrenheit
Combine all of the ingredients in a single large mixing bowl and mix well.
Scoop out the mixture and shape it into a log for fun. Repeat until all of the mixture is used.
Bake for 45 minutes.
Let cool and serve!

Ingredients:

2 lbs of ground turkey
3 eggs
2 cups of cooked rice
8 oz. of peas
3 diced carrots
1 diced apple
Learn how to make dog treats for your pet. They're guaranteed to love it and love you even more for making them!