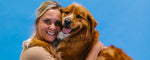 Photo by RODNAE Productions from Pexels
Get to know some smellydogz
For smellydog lovers, the internet has become a place that supplies continuous adorable moments and for a lot of us, it's a primary source of knowledge about our pups. 
It's no surprise that people that possess practical insights into the habits of the now-famous dogs do well with their audiences. Engaging content that gives relevant information through storytelling combined with the pictures of dogs makes these posts irresistible. 
Before we get started, it's important to note that many amazing people are sharing their wisdom about smellydogz today. It's easy to spend hours just browsing through super cute pictures of smellydogz on dog Instagram, but dog blogs give us something more. They teach us something that improves our lives and the lives of our smellydogz.
Maggie Marton has written four books on the topics of how to write dog blogs, zero waste pet ownership, and Dog Training. She writes on the eco-friendly way of pet lifestyle and her dog blog contains first-hand information about your dog's health. 
The posts on this blog are especially helpful to smellydogz that are in the latter part of their lives with advice on how to keep our furry friends healthy and happy. 
Lindsay provides very solid advice on different training methods which makes her blog very useful for new dog owners. The posts are full of cute pictures of dogs and the writing touches on many important topics for new dog owners such as training your new puppy. 
While our smellydogz make our hearts melt, they can get a little carried away if we don't let them know how to react and respond in certain situations. 
The advice from Lindsay is easy to apply no matter your expertise with training dogs. The Mutt not only provides solutions to problems like naughty puppy biting but also provides nutritious food recipes to keep your smellydogz tummy-pleased. 
This famous dog's blog tells the tales and adventures as experienced by the Entlebucher Mountain Dog Alfie. He has a lot to teach us about how we can stay active with our smellydogz through some easy games and tips. 
We love how Alfie tells the stories from his perspective and one of our favourites is "The tennis ball tree that fooled me". 
In this tale, Alfie discovers a shocking truth about a seemingly ordinary tennis ball tree ending the post bewildered by the occurrence. 
This blog features the experiences of a dog-mom Kia Chambers and her super cute schnauzer, Simba. She shares the stories of her life like her pregnancy and her experience with social media and digital marketing. We love this site for its breadth on tips for dog fashion as well as other cool news from the smellydogz world. 
This famous dog blog is inspired by an eight-year-old Siberian Husky named Splash, who is now the CEO. iHeart gives good advice on the needs of smellydog owners, their presentation and selection of pictures are gorgeous! 
While the site mostly features advice on brands and helpful products, they feature local charities extensively to promote awareness. 
Their blog covers everything from Allergies to Senior smellydogs and they feature "pawsitive", heartwarming stories and news. We especially like the way they approach everyday needs and offer their expert advice. 
This is one place on the net where you can come to satisfy your appetite for adorable pup videos. They feature pups of all ages and breeds churning out 14 posts per week. 
Add this dog blog to your bookmarks and say goodbye to online boredom. We especially like their selection of catchy topics and unique stories such as the leaf-loving Lab and Usher's goldendoodle, Scarlett. 
There is much to choose from when it comes to the Whole Dog Journal which is published by the Belvoir Media Group. They boast well researched in-depth articles covering all angles of smellydog care and training. 
Features include natural care, diet and training advice, information about complementary therapies like chiropractic, massage, acupuncture, and homoeopathy, and advice from experts in the field. 
We especially like how they bring some commonly forgotten topics to light such as Smoke inhalation for dogs and Positive Reinforcement Training Without Treats. 
Serving as a platform to connect various pet adoption websites with their next home, this blog features special stories on smellydogz that are looking for a loving family. 
They are connected to 13,900 public and private shelters and humane societies and they share at least three blogs per month to keep you up to date. 
Even though the CEO isn't a famous dog, this blog run by Matt and Stacey focuses on being the source to find off-leash dog parks in Canada. They also run a section filled with current stories and product reviews as well as tales about their hikes and adventures.  
The current database contains information about 232 off-leash dog parks and 54 parks with beaches and other water access for dogs to swim. 
It's a great time to be a dog owner. There is ample information available to learn about the needs of our canine friends and wonderful writers that turn that knowledge into wisdom. Whether it's for their Pictures of dogs or inspiring content, dog blogs have come a long way in educating us about our smellydogz.