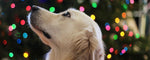 Photo by Leah Kelley from Pexels
Whether they know it or not, it's likely that you're already thinking about what to get your dog for Christmas. This holiday season, local businesses need more support than ever, and they offer some truly unique gifts for dogs. 
As you get ready to bundle up next to the fire and celebrate the holidays, it's also important to be ready for the snowy walks so you can keep your pooch safe, warm and dry. Luckily, there are some great products made right here in Canada that let you enjoy the outdoors in any weather.
1) Carry your smellydog's treats anywhere with BEONEBREEN's - Compact treat pouch
It's good to keep some treats handy when heading on walks with your smellydogz. This compact pouch bag has a classic look because of vegan leather. These are win-win Christmas gifts for dogs and their owners, the smellydogz get treatos on time, and the owners can hang the trendy little bag on a carabiner, and avoid powdery hands or fumbling around for poop bags when walking.

2) Enjoy walking in any weather with Smellydogz' - Double Handle Lead
This double handle leash will help you keep your smellydogz close, especially in nature and unfamiliar places. If you've got a medium or large size pooch, the soft lining on both handles will give your hands a comfortable grip.

The water, mud and freeze proof double handle lead is ideal for any type of activity and makes a durable and long-lasting gift.

3) Go big with DogDog Goose Houndmaid's - Holiday Gift Box
Can't make up your mind on what to get your dog for Christmas? There are four levels of pampering with this Holiday Gift for dog lovers. As it starts to snow in the winter, a coating of wax on your dog's paws keeps the salt out when walking on the pavement.

The fancy looking treat pouch and colourful key fobs are enough to spoil your pooch, but you could always throw in the ear warmers and brass leash just to be sure.

4) Special Christms snacks with Snack 21's - Salmon Strips for Dogs
These Wild Pacific Salmon strips make unique gifts for dogs and will surely win some tail wags as they are made completely from natural fish without any additives. Make Christmas eve special with this all Canadian and nutrient-rich treat for your pooch.
5) Keep your smellydogz clean and dry in cold weather with T.O. Dogswear's - Knit Leggings and ECO Belly Bibs
Most smellydogz love to play in the snow but in temperatures as low as minus five degrees celsius, it's important to protect your dog's legs and belly from the elements if they get cold easily.

Belly bibs and leggings keep out mud and freezing snow whether you're walking around the block or on a forest trail. These warm and waterproof coverings are great gifts for dog lovers.
6) Teach your smellydogs a new skill with Crazy Dog's - competition discs
If we asked you which of your friends loved playing frisbee? You'd probably think of at least one smellydog. These super professional competition discs make awesome Christmas gifts for dogs that love to chase fast objects, allowing them to step up their park frisbee game.

When you think of what to get your dog for Christmas, there are many choices available in the large-scale supermarkets. However, locally-made goods by small businesses have so much diversity and creativity, that it makes their products special in comparison to large-scale supermarkets.