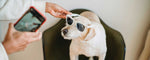 Photo by Samson Katt from Pexels
There are many gizmos and gadgets for when you plan on leaving your dog home while at work. Pups need entertainment while you're away or busy, and high-tech dog gadgets can provide that and much more. Tech for dog's play improves their attention, bone, and joint development and decreases stress and tension. There have been several advancements in dog technology throughout the years that allow our favourite furry friends to experience the good life.
Care for dogs does not have to be exclusive to proper feeding, play, and grooming. It extends to fun and entertainment that keeps a dog active, healthy, and happy. Although pooches can't use high-tech gadgets in the same way we do, that doesn't mean that tech can't benefit them greatly. Dog gadgets can make life more fun for your pet and much easier for you! Below, you'll find the top three tech gadget picks every pet owners should have:
1) Furbo Dog Camera
If you're looking for a pet camera that also offers some fun for your dog, the Furbo Dog Camera is perfect for you! This dog camera offers an impeccably modern design with high-tech functions, including treat tossing. When your dog is home while you're at work, this pet camera can keep them entertained. The Furbo dog camera features a two-way microphone to allow pet owners to communicate with the pet they miss, holds 30 dog treats, and alerts you when your pet makes noises.
2) RoboBone
The RoboBone can keep your pup busy while you're away at the office or bust at home. This awesome high-tech toy can be stuffed with your dog's favourite treat or kibble and roll around freely to keep your pet entertained. The RoboBone rolls on the ground freely with your pet's favourite snacks stored inside and distributed along the way. It is pre-programmed to run away from your dog, so it chases the toy for fun solo-play.
3) PetCube Play Interactive
The PetCube Play Interactive is considered the top pet camera on the market! The pet camera offers two-way audio, night vision, a built-in laser for interactive play with your pet, and a 1080p video experience. The Petcube pet camera is designed to be modern, smooth in design and texture, and available in either autoplay or manual mode. This means that you plan on leaving the dog at home while at work, they can be entertained and stay occupied for hours. The Petcube also connects to a smartphone-ready app that allows you to rewind, playback, and watch 10 to 20 days of the video history of your pet enjoying themselves.
Pet cameras, toys and other high-tech gadgets are excellent tools to fulfill your pet's time while you're away at work or busy with the kids. These incredible innovations help pup owners keep an eye on their favourite pooch to ensure they're staying active, happy and healthy even when they're away. SmellyDogz offers some of the top pet gear on the market to ensure proper control and care for your dog.