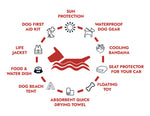 What's the first thing you think of when you think of summer? The beach! We're pretty confident your smellydogz are thinking the same thing too.  
We all love a trip to the beach, even our smellydogz! But a day at the beach takes proper planning and preparation, especially when you're bringing your furry friend along. The more you plan ahead the better the experience will be for everyone! 

Here we will cover the best dog gear for the beach to bring along to ensure a day of fun for all!
1) Sun Protection
Sun protection isn't just important for us humans, it is important for our smellydogz as well! And just like humans, some dogs need it more than others. You may be thinking this is crazy, but it's not! You don't have to rub sunscreen all over you smellydogz, but there are certain areas to watch out for, specifically their ears, noses, and abdomens. Many dogs are sensitive to the sun, so when you plan for a day at the beach it's important to ensure your smellydogz are safe and protected!
2) Waterproof Dog Gear
As dog owners, we're all familiar with that wet dog smell and the smell of dirty dog gear. And a day at the beach is a sure way to be left with that awful smell. The best way to avoid this is to ditch the traditional leather and nylon leash for stink-free dog gear that is waterproof and water-resistant! There are lots of great options out there, but smellydogz offers functional and stylish dog collars, dog leads, and dog harnesses that are waterproof and water-resistant. These are great everyday accessories for your smellydogz whether you're strolling through the park, going to the beach, or facing cold and wet winter weather - yuck! 
3) Cooling Bandana
Getting outside is important for your smellydogz, not just for doing their business, but for exercise, socialization, and mental stimulation! Of course, a day at the beach is a great option on those sunny summer days. However, hot summers can make this a challenging task for dogs and dog owners, especially when you're spending extended hours in the sun. A great thing to pack for your pup on a beach day is a cooling bandana to help regulate your dogs temperature! These are great for all of our furry friends, but certain breeds such as pugs and bulldogs are more prone to heat-related issues, as well as our overweight and elder companions.
4) Seat Protector for Your Car
Most of us rely on our car to get to the beach, but there is nothing worse than piling your smellydogz into the back seat after a day of running in the water and rolling in the sand. A great thing to remember to pack for your beach day is a seat protector for your car! This is an awesome accessory to have for everyday car rides, but it is especially important after a day of adventure and fun in the sun. Kurgo makes a great seat cover hammock that looks great and will keep you from finding sand in your car for the next week!
5) Floating Toy
What's a day at the beach without your favourite floaty? Our smellydogz feel the same! Make sure to pack a floating toy for your day at the beach with your furry friend. Whether your pup is playing hours of fetch with a floating ball or chewing on a waterproof toy, it is a great accessory to remember when packing up dog gear for a day at the beach!
6) Absorbent Quick-drying Towel
A quick-drying towel will not only help reduce that wet-dog smell, it will save your outfit and your car from the same horrible fate. As dog owners, we know the moves our smellydogz make to get dry, and that almost always involves them rubbing up against our precious fabrics - or worse - rolling in the sand! Avoid the chaos and the stink and pack an absorbent and quick-drying towel for your day at the beach with your furry friends.
7) Dog Beach Tent
Everyone needs a break from the sun at the beach, and our smellydogz are no different. When packing up dog gear for your day at the beach, consider bringing a tent for your furry friends to escape the sun and heat. This will come in handy when you and your smellydogz are camping, going on long hikes, or even hanging out in the yard!
8) Food & Water Dish
Collapsible dog bowls are a great accessory to your beach bag full of dog gear. Not only are they super lightweight and packable, but they are also a necessity for your pup when you can't rely on water dishes being nearby. This is especially important for a long day in the sun. Keep your smellydogz hydrated and their tummies full with this amazing portable dog food set from our pals at Overland Dog Gear!
9) Life Jacket
Do your smellydogz love to jump in the water or do they prefer to stay dry on a boat ride? Either way, a lifejacket is a great thing to remember when preparing for a day at the beach!  Even though most dogs are great swimmers, it doesn't mean they can swim for long. If an accident were ever to happen it's always best to be prepared! This is especially important for our elder and overweight smellydogz and those with health and mobility issues.
10) Dog First Aid Kit 
Speaking of being prepared, a dog first aid kit is a great thing to always have on hand, but especially for adventurous days and trips to the beach! Emergencies can occur at any time, so it's always smart to have your first aid kit on hand. Gauze, non-stick bandages, cotton balls, hydrogen peroxide, tweezers, syringes, and antibiotic spray are great things to have on hand if anything were to happen!