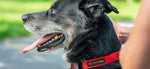 Almost as exciting as making the decision to welcome a new furry friend into your home are the decisions about doggy accessories such as the dog collar and leash your puppy will wear. Bright colours, thin, thick, material choices… there is a world of possibility in the design, material, and colour options. So, what factors should you consider when selecting the appropriate collar for your new doggy BFF? Arm yourself with information: knowing the factors that go into creating dog collars and leashes will help you choose the right collar for your puppy.
Step 1: Identify the Purpose for the Dog Collar 
Start with Style! The first step in selecting a collar style for your pup is identifying why and how your dog will wear the collar.  Will your dog wear the collar every day? Will the dog collar be for identification purposes? Is the dog collar for training or walking?  Or do you simply need a dog collar because of requirements from dog parks and doggy daycares? Different dog collar styles are better suited for different purposes.
Step 2: Choose a Collar Material
Now that you understand WHY your pupperino is wearing the collar, you can start choosing a collar material. How it looks, how it feels, durability, and quality are all factors to consider.  Woven, leather, neoprene, plastics… different types of dog collars have different pros and cons. Considering both your dog and how the collar will be used can help you make an informed decision about what material is best for your dog.
Step 3: Consider the collar width for your puppy
Collar width is correlated with collar strength; the wider the collar is, the more surface area pressure is at play when you walk your pupperino on a leash. Bigger surface area means that your dog feels less pressure on its neck. That's because the pull is more evenly distributed over the entire collar, making your dog more
comfortable on walks. But, keep in mind that wider collars can be less comfortable when it's snuggle time. 
To determine the correct collar width for your dog, measure around your dog's neck in inches, adding the width of two fingers. Use the same method when trying collars on your dog; ensure that there is enough space for two fingers to fit easily between the collar and your dog's neck.
Top tip: If your puppy has thick fur, choose a dog collar that will be able to expand and shrink to fit both before and after a haircut.